Desktop Publishing
With an Eye for Details
Desktop Publishing – The Basis for Brilliant Print Results
Our service does not start at the printing unit, but already with perfecting your templates. Let us convince you with our all-round service!
As experts in their field, our DTP team members are proficient with any tools, such as printing unit, computer, digital and analog hardware as well as numerous software programs. They have years of experience and are also designated specialists for complex image editing.
Our high-class technical production equipment helps us to professionally design and prepare the printing process for all print products. Our product portfolio ranges from business cards, brochures, banners and posters to catalogs, press releases, packaging, labels and books.
With us, you will get an all-round service from start to finish. Furthermore, our equipment, our expertise as well as our experienced routine will produce ideal results in short time and at an attractive price.
Layout: From the Idea to the Finished Print Data
We also take care of the graphics and design of your idea. We gladly create a perfectly fitting offer for you. Don't hesitate to get in touch with us.
The goal of digital image processing is to provide optimal readability, an aesthetic design and an outstanding advertising effect. In addition to that, your corporate identity should be highlighted in the best manner. It is crucial for print matters that your company's brand or products are easily recognizable.
Image editing is the basis for a perfect design. We correct over- and under-exposures, blurring, contrast weaknesses and image noise for you. Before the production print starts, we are happy to provide you with a proof sheet or a colour accurate digital proof for review.
If the layouts are available in digital form, they will be checked for any mistakes and with regards to print quality. We discuss any upcoming questions, chances to improve or discrepancies with you. No matter how you prefer to get in contact with us, whether by phone, fax or e-mail, our expects will take of any of your needs. You can be sure to directly get in touch with our experts instead of a call center hotline.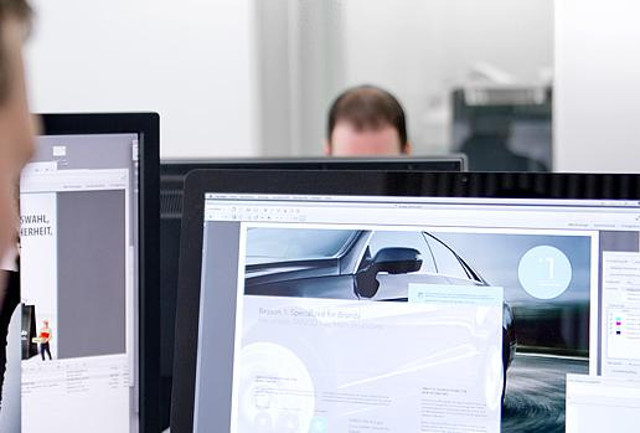 Data Transmission
Our experts will create a professional layout from your submitted data.
Based on your specifications, we create the perfect print result. If you already have digital layouts at hand, you can simply provide them to us. Make use of our digital data transmission services. We accept any common data formats.